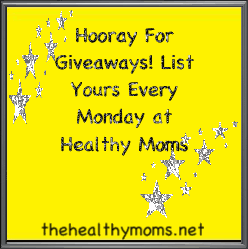 It's time again to celebrate giveaways! List yours here or if you want to enter one they are just a click away.
Giveaways at Healthy Moms
Triaminic Giveaway
Triaminic and the Healthy Moms are giving away 4 boxes of Triaminic Thin strips to 3 lucky readers. All you need to do in order to enter is leave a comment. All entries must have a valid e mail address, be 18 years or older and United States residents. ends 2/21
Eco Store Giveaway
Prize: $25 gift certificate to the Eco Store
HOT Giveaways across the web
America's Wellness Challenge Sweepstakes
Prize: $15,000 ends 2/28
HGTV – 2010 Dream Home Sweepstakes
Prize: Custom-built furnished home in Sandia Park, NM; includes $500,000 cash, 2010 GMC Terrain SUV, high-end appliances, and HGTV Dream play home (ARV $2,038,375).
Better Homes and Gardens – Take a Load Off Sweepstakes
Prize: $10,000 check.
Woman's Day – Waters at Horseshoe Bay Giveaway
Prize: 4-day/3-night stay for four at The Waters at Horseshoe Bay in the Texas Hill Country, and a $500 flight voucher (ARV $2,200).
Good Housekeeping – Aruba Vacation Sweepstakes
Prize: 5-night trip for two to the Aruba Marriot Resort & Stellaris Casino in the exclusive Tradewinds Club; includes two $800 gift cards for airfare, all meals, two massages at the Mandara Spa, and choice of two-hour windsurf experience along with one-hour windsurfing lesson OR one-hour intro to kiteboarding with land-trainer lesson (ARV $3,696.84).
Ladies' Home Journal – Spa Giveaway Sweepstakes
Grand Prize: Gift certificate good for a 3-night weekend trip for two to Canyon Ranch Spa in Lenox, MA, or Tucson, AZ; includes three daily gourmet meals, $390 per person allowance toward spa, sports and integrative wellness services, complimentary fitness classes, use of fully equipped spa complex, guided hikes and biking excursions, daily selection of educational lectures and cooking demonstrations, personal program advisor to custom-design the stay, health and fitness assessment and Canyon Ranch beauty products (ARV $7,055).
First Prizes:
(1): $500 Bliss spas gift certificate and Bliss beauty products (ARV $1,000).
(1): $500 Elizabeth Arden Red Door spas gift certificate and Elizabeth Arden beauty products (ARV $1,000).
(1): $1,000 Spa Finder gift certificate.
(1): Aveda spa beauty products (ARV $1,000).
If You're Happy and You Know It! Book and Singalong CD Great Books 4 Children
Beautiful children's book and singalong CD for kids 1-7. end 2/1
Umbra Partridge Jewelry Tree The Happy Little Wren
The Happy Little Wren is pleased to announce that we have an Umbra Partridge Jewelry Tree to give away to one lucky reader! ends 1/27
EvoraPlus Teeth Whitener Dimes 2 Vines
30 day supply of EvoraPlus Teeth Whtitener ends 1/30
Prime-Time Health 2 copies Dimes 2 Vines
2 copies (2 winners) of Prime-Time Health book. ends 2/6
$20 Worth Surprise Hair Accessories and Coverings All Things Bloggy
The winner of $20 Worth Surprise Hair Accessories and Coverings will be chosen RANDOMLY from all the valid and verified entries and will be notified by email. If the winner fails to reply to the notification email within 48 hours after it has been sent, the entrant with the highest points will be the alternate winner. The winner's name will be posted only after the winner's confirmation. Also, aside from being the alternate winner, the entrant with the highest points will be awarded a 125×125 Ads Space for 1-month in this site as my very own 'All Things Bloggy' Giveaway Enthusiast Awardee. Enter Daily until February 8, 2010
Lunar Antics: Comics Book Cakeblast
Lunar Antics Presents: Boy I'd Hate To Be Made Out Of That Stuff! This book of comic strips is hilarious and suitable for all ages. ends February 8, 2010 11:59pm CST
Other Places to List Your Giveaway

MONDAY:





Frugal Freebies and Deals
Busy Mommy

THURSDAY:
Moomette's Magnificents
The Freebie Blogger
Other Great Giveaway Sites
Mom Bloggers Club
Cafe Mom
Mom Fuse
Sweeps4Bloggers
Contest for Moms
SweepsAdvantage.com
Online-sweepstakes.com
Would you like your giveaway to be featured under our HOT giveaways across the web? Please fill out this form and we will feature your giveaway next Monday.
Website Name

Your Email Address

Prize

Deadline to enter

Live Link to Your Contest

Discription
Discuss this in our forum

http://www.mcklinky.com/linky_include_basic.asp?id=13040
Link to this post:
<a href="https://healthymomsmagazine.net/2010/01/hooray-for-giveaways-1-25-2-01.html">Hooray for Giveaways | 1-25 – 2-01</a>