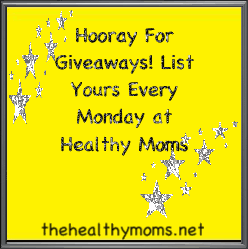 It's time again to celebrate giveaways! List yours here or if you want to enter one they are just a click away.
Giveaways at Healthy Moms
Triaminic Giveaway
Triaminic and the Healthy Moms are giving away 4 boxes of Triaminic Thin strips to 3 lucky readers. All you need to do in order to enter is leave a comment. All entries must have a valid e mail address, be 18 years or older and United States residents. ends 2/21
Eco Store Giveaway
Prize: $25 gift certificate to the Eco Store
HOT Giveaways across the web
America's Wellness Challenge Sweepstakes
Prize: $15,000 ends 2/28
HGTV – 2010 Dream Home Sweepstakes
Prize: Custom-built furnished home in Sandia Park, NM; includes $500,000 cash, 2010 GMC Terrain SUV, high-end appliances, and HGTV Dream play home (ARV $2,038,375).
Better Homes and Gardens – Take a Load Off Sweepstakes
Prize: $10,000 check.
ELLE Magazine – Perfect Project Sweepstakes
Prize: 6-night trip for two to Hamilton Island and Sydney, Australia; includes 3-nights at the Hamilton Island Beach Club, 3-nights at the Four Seasons Hotel Sydney, and Steven Alan limited-edition perfect travel bag (ARV $9,461).
Lifetime – Project Runway New York, New You Sweepstakes
Grand Prize: 3-day/2-night trip for two to New York City, NY; includes meet & greet with Project Runway judge Nina Garcia, review of Marie Claire's Fashion Closet with Nina Garcia and a Marie Claire Fashion Editor, shopping spree with a Marie Claire Fashion Editor, hair and make-up makeovers OR $6,000 check in lieu of the shopping spree/makeover, $10,000 check, L'Oreal and Garnier gift basket, and signed copy of The Style Strategy by Nina Garcia (ARV $22,272).
Weekly Prizes (13 – 1 per week): $500 check, L'Oreal & Garnier gift basket, and signed copy of The Style Strategy by Nina Garcia (ARV $772).
Better Homes and Gardens – Formica180FX Kitchen Upgrade Sweepstakes
Prize: In-home kitchen design consultation with a Better Homes and Gardens design consultant and Formica 180FX counter top package with up to 60 square feet of laminate counter top materials and costs of professional installation, tabletop items, dinnerware and kitchen accessories (ARV $5,000).
Girlgetstrong – Becky's Fitness Company Giveaway
Prize: Personal Training Traxx Ultimate Fitness Package (ARV $200+).
Fitness Magazine – You Can Do It Sweepstakes
Grand Prize: 2-night trip for two to San Diego, CA with accommodations at The Grand Del Mar hotel includes two spa treatments, guided nature tour, nutritional consultation, daily breakfast and two fitness classes. (ARV $3,486).
First Prize: NordicTrack Elite 7500 (ARV $1,500.00).
SheKnows – AgroLabs Liquid Nutrition Giveaway
Prizes (5): AgroLabs liquid nutrition all-natural organic Pomegranate.
The Funky Monkey – StormSister Spatique Giveaway
Prize: INtelligent Nutrients USDA Certified Organic Lip Delivery Nutrition and Blissful Bath Shower Steamer.
oh hey, what's up? – Valentine's Day Gifts: For Kids Giveaway
Prizes:
(2): $50 My Kids Art on Canvas gift certificate.
(1): Set of personalized Valentine cards from Little Lamb Design.
(1): Complete set of McNeill Designs for Brighter Minds games including Twisted Fish, You've Been Sentenced, and all five add- on decks.
(1): Bag O' Doxies from Sweet Little Birdie.
Kids Cooking Activities – Hidden Chef Hat Contest
Kids Cooking ebooks or booklets.
Prime-Time Health 2 copies Dimes 2 Vines
2 copies (2 winners) of Prime-Time Health book. ends 2/6
$20 Worth Surprise Hair Accessories and Coverings All Things Bloggy
The winner of $20 Worth Surprise Hair Accessories and Coverings will be chosen RANDOMLY from all the valid and verified entries and will be notified by email. If the winner fails to reply to the notification email within 48 hours after it has been sent, the entrant with the highest points will be the alternate winner. The winner's name will be posted only after the winner's confirmation. Also, aside from being the alternate winner, the entrant with the highest points will be awarded a 125×125 Ads Space for 1-month in this site as my very own 'All Things Bloggy' Giveaway Enthusiast Awardee. Enter Daily until February 8, 2010
Lunar Antics: Comics Book Cakeblast
Lunar Antics Presents: Boy I'd Hate To Be Made Out Of That Stuff! This book of comic strips is hilarious and suitable for all ages. ends February 8, 2010 11:59pm CST
Gorgeous Vintage Roses Earrings
Enter to win gorgeous Vintage Roses Earrings from ASA Designs! There's a lot of opportunities for extra entries ends February 10, 2010
Red Light, Green Light, Eat Right – 2 Winners
A copy of Red Light, Green Light, Eat Right – 2 Winners! Ends 2/13
Color Songs CD
Rock Rhythm and Rhyme Color Songs CD ends 2/19
Upper Canada Soap Body Truffles
One lucky Canadian winner will win an Upper Canada Soap Body Truffle product. Ends 2/14
Old El Paso Gift Pack MyReason(s)ToBlog!!!
Ends 2/4
Other Places to List Your Giveaway

MONDAY:





Frugal Freebies and Deals
Busy Mommy

THURSDAY:
Moomette's Magnificents
The Freebie Blogger
Other Great Giveaway Sites
Mom Bloggers Club
Cafe Mom
Mom Fuse
Sweeps4Bloggers
Contest for Moms
SweepsAdvantage.com
Online-sweepstakes.com
Would you like your giveaway to be featured under our HOT giveaways across the web? Please fill out this form and we will feature your giveaway next Monday.
Website Name

Your Email Address

Prize

Deadline to enter

Live Link to Your Contest

Discription
Discuss this in our forum

http://www.mcklinky.com/linky_include_basic.asp?id=13040
Link to this post:
<a href="https://healthymomsmagazine.net/2010/02/hooray-for-giveaways-2-1-2-7.html">Hooray for Giveaways | 2-1 – 2-7</a>