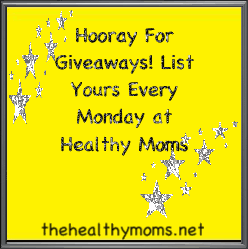 It's time again to celebrate giveaways! List yours here or if you want to enter one they are just a click away.
Giveaways at Healthy Moms
Breathable Baby Crib Bumper Pads Giveaway (ends 4/1)
Breathable Baby Crib Bumpers are the safer alternative to regular bumper pads. This is a part of the Healthy Moms Favorite Things Giveaways. Our Favorite Things Giveaways are not run by a second party sponsor. This is an item that our editor purchased for her baby, loved it and will give one as a special thank you gift to a loyal reader.
Tyson Grilled and Ready Chicken Giveaway (ends 3/28)
3 lucky Healthy Moms readers will receive a coupon for one free Grilled and Ready product from Tyson. (a $9.99 value)
Human Body Detectives Giveaway (ends 3/21)
Win a copy of Heather Manley's new workbook and audio CD from the award winning series The Human Body Detectives and a Human Body Detectives T-Shirt.
HOT Giveaways across the web

Lifetime – Project Runway New York, New You Sweepstakes
Grand Prize: 3-day/2-night trip for two to New York City, NY; includes meet & greet with Project Runway judge Nina Garcia, review of Marie Claire's Fashion Closet with Nina Garcia and a Marie Claire Fashion Editor, shopping spree with a Marie Claire Fashion Editor, hair and make-up makeovers OR $6,000 check in lieu of the shopping spree/makeover, $10,000 check, L'Oreal and Garnier gift basket, and signed copy of The Style Strategy by Nina Garcia (ARV $22,272).
Weekly Prizes (13 – 1 per week): $500 check, L'Oreal & Garnier gift basket, and signed copy of The Style Strategy by Nina Garcia (ARV $772).
ReadyMade – Aloha from Maui Sweepstakes
Prize: 6-day/5-night trip for two to the Kãn'anapali Beach Hotel with ocean view accommodations in Maui, HI; includes car rental, daily breakfast at the Tiki Terrace Restaurant, Kupanahana Magic Show admission and round of golf at Kã'anapali Golf Resort (ARV $5,192.90).
Lifetime Moms – Dream Vacation Giveaway
Prize: 5-day/4-night trip for four to Walt Disney World Resort near Orlando, FL; includes 5-day Magic Your Way free pass, 5-day Park Hopper option for Disney Hollywood Studios, Epcot Magic Kingdom Theme Park and Disney Animal Kingdom, and $500 Disney gift card (ARV $4,888).
Lifetime – Live Adventurous, Love Adventurous Sweepstakes
Grand Prize: $2,000 check and $250 Outback Steakhouse gift card (ARV $2,250)
Instant Win Prizes (29 – 1 per day): $100 check.
Woman's Day – MSI Wind Top All-In-One PC Giveaway
Prizes (2): MSI Wind Top AE2220 all-in-one PC (ARV $799.99).


Natures Paradise Gi'ovane Italy Organic Anti Aging Set (a $245 value)
Includes Gi'ovane Italy 1oz Firming Serum, 4oz Clarifying Toner, 6oz Foaming Cleanser, .5oz Eye Makeup Remover and .5oz Firming Eye Cream. Repairs damage from aging, the sun, pollutions free radicals, roseaca and blemishes. (ends 3/10)
Smart Mom Pendant teething necklace in pink camo!
Smart Mom is giving away one teething necklace in their brand new pink camo print to one of Home Grown Families readers! These necklaces are worn by mom for baby to play with! No more worries about toxic chemicals or broken jewelry! (ends 3/9)
Organic ERGObaby Carrier
Winner gets an Organic ERGObaby Carrier which can be used from newborn to toddler. The best baby carrier out there! Retails for $120. (ends 3/12)
Martin rectangle pillow from CSN
Win a beautiful pillow from CSN Stores (ends 3/25)
1LB box of Leonidas Belgian Milk Chocolates
Win a 1LB box of Leonidas Belgian Milk Chocolates by sharing your favorite brand of chocolate! e mail amy@enchocolat.com for details. (ends 3/18)
$10.00 Amazon.com gift card
Win an Amazon gift card to spend however you like! (ends 3/10)
$25 E-Gift Certificate to RosyHandbags.com and 125×125 Ads Space for 1-month at http://lifesacharm.net/blog
Enter Daily until March 22, 2010, -$25 E-Gift Certificate to RosyHandbags.com
The winner of $25 E-Gift Certificate to RosyHandbags.com will be randomly chosen from all verified and valid entries. The participant with the most number of entries will be the alternate winner and will win 125×125 Ads Space. Worldwide!
CVS Gift Card
(ends 3/11)
Other Places to List Your Giveaway

MONDAY:





Frugal Freebies and Deals
Busy Mommy

THURSDAY:
Moomette's Magnificents
The Freebie Blogger

Other Great Giveaway Sites
Mom Bloggers Club
Cafe Mom
Mom Fuse
Sweeps4Bloggers
Contest for Moms
SweepsAdvantage.com
Online-sweepstakes.com
Would you like your giveaway to be featured under our HOT giveaways across the web? Please fill out this form and we will feature your giveaway next Monday. Giveaway deadline must be after 3/15 in order to be listed next week.
Website Name

Your Email Address

Prize

Deadline to enter

Live Link to Your Contest

Discription
Discuss this in our forum

http://www.mcklinky.com/linky_include_basic.asp?id=13040
Link to this post:
<a href="https://healthymomsmagazine.net/2010/03/hooray-for-giveaways-3-8-3-15.html">Hooray for Giveaways | 3-8 – 3-15</a>