If we have eggs, we have something to eat. And I know that eggs, or maybe just egg yolks, have been both praised and hazed over the years. But, personally, I'm a fan of the whole egg. If you differ, just skip the first recipe and substitute two whites for every whole egg in the second. That's right, I have two very simple recipes for you today.

Remember egg salad? Maybe it's just the region of the country that I am living in, but it seems to be gone with the wind. It's still popular in this house, though. I love to have a batch in the fridge for a quick lunch or even a late breakfast.
For my favorite egg salad, finely chop one small onion and two stalks of celery.
Hard-boil and peel a dozen eggs.
And mash them together with 
three tablespoons of light mayonnaise
(or grapeseed oil Veganaise, which is what I used today),
one teaspoon of salt, a pinch of parsley, a half teaspoon of dill, a quarter teaspoon of celery salt, and a dash of garlic powder and pepper
.
Serve chilled and enjoy.
Do you love quiche? Do you avoid it because of the calories?
Well
, I think you'll be pretty happy with the ingredients in this crustless, lowfat one. And I know you'll be thrilled with the
taste
!
Chop and pan sear five slices of turkey bacon. Add a teaspoon of vegetable oil and saute three-quarters of a cup of chopped mushrooms and a half cup of frozen spinach.
Add the warm mixture and a half cup of grated cheddar to five thoroughly beaten eggs and a cup of skim milk. Pour into a lightly greased, non-stick pie pan and cook in a 350 degree oven for 30-35 minutes.
Is your home an egg friendly household? How do you like your eggs? Share your original egg recipes with me before April 23rd. I'll feature my favorite on my blog, and I might even offer a prize!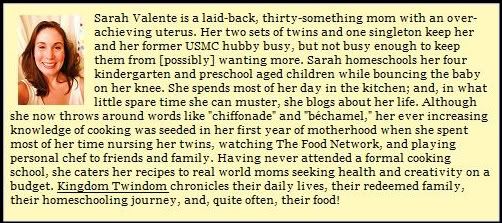 Link to this post:
<a href="https://healthymomsmagazine.net/2010/04/eggsactly.html">Eggsactly</a>