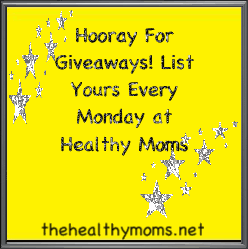 It's time again to celebrate giveaways! List yours here or if you want to enter one they are just a click away.
Giveaways at Healthy Moms
Ultima Sports Drink Giveaway
One lucky reader will win a box of Ultima Replenisher, the Balanced Electrolyte Drink. Ultima is the only 100% natural, non-GMO, gluten free, dye free, sugar free electrolyte drink on the market. (ends 5/9)
Ultima Giveaway Winner:
Comment number 19
Heather said…
May 9, 2010 11:11 PM
I follow your blog via gfc as /Heather/
Congratulations. I will be in touch with you so you can claim your prize.
Subway Giveaway
Subway now offers breakfast! Subway and the Healthy Moms are offering a $10 gift card to one lucky reader. (ends 5/16)
Subway Winner comment number 99
barbara.montyj said…
May 5, 2010 8:53 PM
I follow you on Twitter @JalapenoMama
Congratulations! I will be in touch with you so you can claim your prize.
The Year Of Wellness Video Contest
One (1) grand prize winner will receive a "year of wellness" worth $10,000, including a $5,000 cash prize and nutrition consulting, life coaching, personal training & supplements throughout the year
Joy of Desserts
3 Winners! "101 Things I Learned in Culinary School" (ends 5/19)
"Louis Eguaras, a renowned chef at the Le Cordon Bleu Program at the California School of Culinary Arts, provides readers with a terrific overview of what is truly involved in the preparation, cooking, and presentation of meals. He also provides invaluable insights into just what is involved in making this one's chosen profession.
Freebies and Much More
Win a Special Edition of The Little Engine That Could (ends 5/21)
The Diaper Baker
Three Tier Neutral Diaper Cake (ends 5/31)
Three Tier Neutral Diaper Cake Giveaway by The Diaper Baker
Mom's Misc. Adventures
Easy Lunch Boxes System (ends 5/12)
I have a giveaway linky on my blog every Thursday.
Link Your Giveaway Thursdays.
A Modern Day Ricky and Lucy
When Did I Get Like This? book ( ends 5/15)
Win a copy of When Did I Get Like This?, the hilarious story of one mother's struggle to shrug off the ridiculous standards of modern parenting, and remember how to enjoy her children.
Things & Stuff
$50.00 gift certificate to Custom Tee Couture ( ends 5/13)
Win a $50.00 gift certificate to Custom Tee Couture where you can design your own shirt using the unique and amazing website.
Spend Less & Save More
$35 Gift Card to Jiffy Lube (ends 5/13)
Win a $35 Gift card to Jiffy Lube!
Just Add Lauren
Seventh Generation Free and Clear Pack (ends 5/14)
Seventh Generation is giving away a prize pack including all kinds of cleaning supplies, laundry supplies, dish detergent, etc. Enter to win!
MelissaStuff
Crib Creations Diaper Bear (ends 5/28)
Other Places to List Your Giveaway

MONDAY:





Frugal Freebies and Deals
Busy Mommy

THURSDAY:
Moomette's Magnificents
The Freebie Blogger

Other Great Giveaway Sites
Mom Bloggers Club
Cafe Mom
Mom Fuse
Sweeps4Bloggers
Contest for Moms
SweepsAdvantage.com
Online-sweepstakes.com
Would you like your giveaway to be featured under our HOT giveaways across the web? Please fill out this form and we will feature your giveaway next Monday. Giveaway deadline must be after 5/24 in order to be listed next week.
Website Name

Your Email Address

Prize

Deadline to enter

Live Link to Your Contest

Description
Discuss this in our forum

http://www.linkytools.com/basic_linky_include.aspx?id=26336
Link to this post:
<a href="https://healthymomsmagazine.net/2010/05/hooray-for-giveaways-5-17-5-24.html">Hooray for Giveaways | 5-17 – 5-24</a>