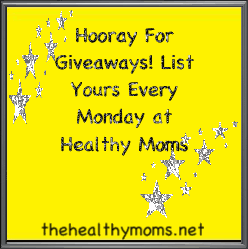 It's time again to celebrate giveaways! List yours here or if you want to enter one they are just a click away.
Giveaways at Healthy Moms
Ultima Sports Drink Giveaway
One lucky reader will win a box of Ultima Replenisher, the Balanced Electrolyte Drink. Ultima is the only 100% natural, non-GMO, gluten free, dye free, sugar free electrolyte drink on the market. (ends 5/9)
Subway Giveaway
Subway now offers breakfast! Subway and the Healthy Moms are offering a $10 gift card to one lucky reader. (ends 5/16)
The Year Of Wellness Video Contest
One (1) grand prize winner will receive a "year of wellness" worth $10,000, including a $5,000 cash prize and nutrition consulting, life coaching, personal training & supplements throughout the year
Moms Wear Your Tees
Crazy Dog T-Shirt of Winner's Choice (ends 5/6)
Crazy Dog T-Shirts will provide the winner with one shirt of winner's choice from the Crazy Dog Collection of funny and vintage tees.
One Savvy Housewife
Zephyr Woods Necklace (ends 5/10)
Joy of Desserts
3 Winners! "101 Things I Learned in Culinary School" (ends 5/19)
"Louis Eguaras, a renowned chef at the Le Cordon Bleu Program at the California School of Culinary Arts, provides readers with a terrific overview of what is truly involved in the preparation, cooking, and presentation of meals. He also provides invaluable insights into just what is involved in making this one's chosen profession.
Crocheted LittleThings
Cupcake Pincushion (ends 5/5)
Cupcake pincushion with flower, $10
www.onlynaturalfood.com
$150 of Grass Fed Organic Beef (ends 5/15)
Wanna win the best beef you'll ever taste? Organic and grass fed, all you have to do is tell us how you best love to eat your beef!
Anonymous8
$50 Gift Card to Victoria's Secret (ends 5/4)
Messy Mommy
FIVE pairs of baby/toddler leg warmers (ends 5/15)
5 pairs of leg warmers from My Little Legs. Discount code as well!
Hope Springs Eternal
One custom hand-stamped necklace (ends 5/14)
Win a BEAUTIFUL, custom hand-stamped necklace from BugABoo Jewelry. It is perfect to honor an angel baby, OR to celebrate your earth baby! It comes with a beautiful Swarovski crystal; the color of which you choose. Pick from a variety of designs for the outer shells.
Christian Frugal Mama
CoverMAte Food Covers (ends 5/14)
Freebies and Much More
Win a Special Edition of The Little Engine That Could (ends 5/21)
Other Places to List Your Giveaway

MONDAY:





Frugal Freebies and Deals
Busy Mommy

THURSDAY:
Moomette's Magnificents
The Freebie Blogger

Other Great Giveaway Sites
Mom Bloggers Club
Cafe Mom
Mom Fuse
Sweeps4Bloggers
Contest for Moms
SweepsAdvantage.com
Online-sweepstakes.com
Would you like your giveaway to be featured under our HOT giveaways across the web? Please fill out this form and we will feature your giveaway next Monday. Giveaway deadline must be after 5/10 in order to be listed next week.
Website Name

Your Email Address

Prize

Deadline to enter

Live Link to Your Contest

Description
Discuss this in our forum

http://www.linkytools.com/basic_linky_include.aspx?id=26336
Link to this post:
<a href="https://healthymomsmagazine.net/2010/05/hooray-for-giveaways-53-510.html">Hooray for Giveaways! | 5/3 – 5/10</a>