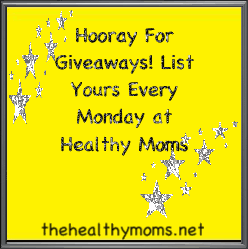 It's time again to celebrate giveaways! List yours here or if you want to enter one they are just a click away.
Giveaways here at Healthy Moms
Baby Goes Pro DVD (ends 6/28)
This new fun DVD teaches children 4 and under the importance of staying physically active through sports. I've extended this giveaway because I did not get very many comments so Please I beg you to enter this contest! I swear you will love this DVD.
HOT Giveaways across the web
www.BuzzAwayExtreme.com Video Contest
$1000 (ends 6/30)
"Mosquitoes remind us that we are not as high up on the food chain as we think." – Tom Wilson

SKIN MD NATURAL 4th of July Backyard BBQ Giveaway (ends 6/25)
Backyard BBQ Giveaway valued at over $300 includes:
5 Bottles Skin MD Natural SPF+15
5 Bottles Skin MD Natural Original
6 Red Hotdog & Fry Serving Baskets
16 Piece Blue Cutlery Set
4 Pack Insulated Fish Tumblers
4 Pack Fish Party Spreaders
6 Pack Fish Wine Charms
Ultimate Barbeque Cook Book
with over 300 Recipes
All Natural Caribbean
Burger Blend Seasoning
Hickory Wood Smoking Chips
Non Stick Grill Basket
Decorative Patriotic
Candle Holder
JamericanSpice
Suave Body Wash (ends 6/30)
Suave Naturals® Mango Mandarin Refreshing Body Wash
Bird Crafts
CSN GC worth $80!!! (ends 7/7)
Choose a prize worth $80!!
Punk Rock Momma
Free sample of Sprouts organic baby food and a coupon for 1 free (ends 6/25)
This is a giveaway for a free sample of Sprouts organic baby food and a coupon for buy 3 get 1 free. Sprouts organic baby food is not only organic but eco friendly in its packaging.
Mommy Moment Blog
$200 LaLOOP giveaway ( ends 6/21)
Takin
Organic ERGObaby Carrier (ends 7/5)
Worth up to $148!
Colie
Justvanities.com $40.00 gift card (ends 6/21)
The wonderful people at Justvanities.com have offered for one of my readers to win a $40.00 gift card to be used on their website Justvanities.com. To enter, visit Justvanities.com and tell me which product you want in your bathroom to spice it up. Please remember to leave your e-mail address!
The Crazy Days: Going Green with Noah
Francesca Baby Oversized Custom Bib (ends 6/28)
Win a handmade Francesca Baby Oversized Bib!!!!
Hobo Mama Reviews
Smart Mom Jewelry Teething Bling Necklace from Posh Baby Boutique (ends 6/22)
A stylish necklace
Recipes for Moms
$100 Grocery Gift Card (ends 6/25)
$100 gift card to grocery store of winner
My Double Life
Baby Dipper Bowl (ends 6/28)
Win a Baby Dipper bowl, spoon, and fork set
Deliciousliving.com
package of beauty and personal care products (ends 6/30)
Ten lucky winners will win a prize pack of personal care products.
Winners will be selected and notified the first week of July.
Companies include Derma e, Genuine Health, Mychelle, Organique by Himalaya, Now Solutions, and Xlear Inc.
Flour On My Face
Good Earth Dinner Entree & Bamboo Gift Set (ends 6/25)
The winner will receive a Good Earth gift pack that includes a Good Earth Mediterranean Chicken dry dinner kit, two sets of bamboo flatware, two bamboo dishes, a bamboo utility board and a 100% recyclable grocery tote.
Fifi
Custom Made Item from Fifi (ends 7/4)
Custom Made Item of your choice!!!
The winner of this giveaway can choose from any one of the following:
Baby/Children
Oils For Wellness
Young Living Essential Oils Tranquil Aromatherapy Roll On (ends 6/30)
Tranquil essential oil roll on is a proprietary blend of lavender, cedarwood and roman chamomile essential oils formulated to calm and relax the body and mind. Using the new roll on application, Tranquil provides convenient and portable relaxation. ($30 retail value)
Other Places to List Your Giveaway

MONDAY:





Frugal Freebies and Deals
Busy Mommy

THURSDAY:
Moomette's Magnificents
The Freebie Blogger

Other Great Giveaway Sites
Mom Bloggers Club
Cafe Mom
Mom Fuse
Sweeps4Bloggers
Contest for Moms
SweepsAdvantage.com
Online-sweepstakes.com
Would you like your giveaway to be featured under our HOT giveaways across the web? Please fill out this form and we will feature your giveaway next Monday. Giveaway deadline must be after 6/28 in order to be listed next week.
Website Name

Your Email Address

Prize

Deadline to enter

Live Link to Your Contest

Description
http://www.linkytools.com/basic_linky_include.aspx?id=26336
Link to this post:
<a href="https://healthymomsmagazine.net/2010/06/hooray-for-giveaways-621-628.html">Hooray for Giveaways | 6/21 – 6/28</a>