I'm getting this in just under the wire, because you have about twenty-four hours left to enter the I Can't Believe It's Not Butter contest. I can't believe the prize!
Yowsers!
As promised, though, I do have my very own I Can't Believe It's Not Butter recipe for you today. I call them Molasses Energy Bars, and a healthier version of the store bought energy bars is definitely what I was after. My older girls call them Ballerina Cookies, though, which I have to admit is a much better name. Even if it makes little sense. Unless they give them so much energy that they want to spin and dance like tiny hopped up ballerinas. Actually, I think that's exactly what happened this morning.
Don't be scared, though, they also helped them focus for school time.
To make Ballerina Cookies…
Combine:
1 cup ICBINB
1/2 cup molasses
1 Tbs. honey
Whisk in:
2 eggs
1 tsp. vanilla
Puree and add:
1 banana and a 2 inch piece of ginger
To the wet ingredients add:
3/4 cup white flour*
1 1/2 cup wheat flour
1 1/2 cup rolled oats
3 tsp. cinnamon
1 tsp. salt
1 tsp. baking soda
6 Tbs. Flax seed
*As with all of my recipes, this is being written at a very high altitude (8,750), you may want to try cutting this amount by about 2 tablespoons.
Stir, chill for at least 30 minutes,  and then scoop by heaping tablespoons onto an ungreased cookie sheet. Bake at 375 degrees for 10 minutes. Drizzle the hot cookies with honey before cooling and serving.
Enjoy!
If you haven't entered the I Can't Believe It's Not Butter contest, please hurry! Time is almost out! And remember, we love all our readers but are so thankful for our followers. To repay the favor, all followers (of my blog and Healthy Moms) receive a bonus entry. Just be sure to comment and let me know.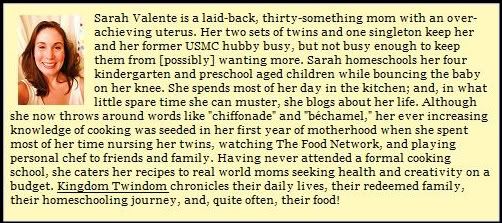 Discuss this in our forum
Link to this post:
<a href="https://healthymomsmagazine.net/2010/07/ballerina-cookies.html">Ballerina Cookies</a>