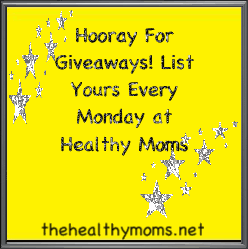 It's time again to celebrate giveaways! List yours here or if you want to enter one they are just a click away.
Giveaways here at Healthy Moms
Healthy Moms Online Giveaway (ends 7/25)
To celebrate the grand opening of our new sister site we are giving away a bottle of Native Remedies Fatigue Fighter. (retails for $35.96) Contest is open to anyone 18+ Worldwide. Visit the link above for more details.

HOT Giveaways across the web
Crazy Coupon Mommy
Boon Flair High Chair $229 (ends 8/3)
Win a cool pink Boon Flair!
Mama Bytes
Mug, Tote Bag of choice from CafePress (ends 7/26)
Winner will receive a tote bag and coffee mug of choice from CafePress
One Frugal Lady
Belly 9 shirt of choice (ends 8/23)
Winner will receive shirt of choice from Belly 9
$80 Labor Bag (ends 8/20)
Winner will receive labor bag of choice from Duffle your bag
Woombie of choice (ends 8/18)
Winner will receive Woombie of choice
$100 Kokopax city carrier (ends 8/17)
Winner will receive Kokopax city carrier in choice of print
Bouquet of choice from Baby Deary (ends 8/16)
Winner will pick bouquet of choice from Baby Deary Etsy shop
$15 Gift card to Eco Mom (ends 8/10)
Winner will receive a $15 Gift card to Eco Mom
Item of choice from Estella Designs (ends 8/9)
Winner will pick item of choice from Estella Designs Etsy shop
That's Sew Cute- custom onesie or shirt (ends 8/5)
Winner will receive custom onesie or shirt of choice from That's Sew Cute Etsy shop
Diaper Clutch (ends 7/31)
Winner will receive a diaper clutch of choice from Practical Designs
Kidorable umbrella of choice (ends 7/29)
1 winner will receive a Kidorable umbrella of choice
Shibley Smiles
Free Blog Design by Colleen Shibley (ends 7/30)
Win a free blog design!
Mind and Body Power
$350 of Health & Weight Loss Coaching (Psych, Nut, Fit) (ends 7/23)
Personal Coaching Sessions (2 x 30min) (Web/IM/Phone); Online 16-wk course; Weight Loss Hypnosis Series (5 audios) for success!
Fitteds and Pockets and Snappis, oh my!
Two Bumgenius 4.0 Cloth Diapers (ends 7/28)
BecomingSarah.com
The entire series of Stella and Sam picture books, an award-winning collection by Marie-Louise Gay. (ends TBA – at 300 entries or on Thursday, July 29, 2010)
Every week, I give away at least one good-quality children's book in support of pediatric literacy. This week, in celebration of my daughter's first birthday, I am giving away a set of my favorite children's picture book series of all time: the Stella and Sam books written and illustrated by Marie-Louise Gay.
Shining2Save
$50 Gift Card to Sam's Club (ends 8/22)
$50 Gift card to Sam's Club,
If you are not a member it includes a Membership Card for 1 Year ($40 value) & a $10 Gift Card
If you are already a member: $50 Giftcard
Frugal in Kentucky
Avon ANEW Ultimate Age Repair Night Cream ($34 value) (ends 8/2)
In The Know Mom
Omron GOsmart Pedometer (ends 7/28)
Win a Gosmart Pedometer from Omron!! Track your steps, calories and fat burned. Enter at In The Know Mom! Contest ends 7/28
bigbluetrunk
little twig travel pack of natural bath products for kids (ends 7/31)
Win a little twig travel pack that contains calming organic lavendar products – baby wash, body milk, and bubble bath along with a cute bath mitt in a reusable PVC-free pouch by posting a review on bigbluetrunk by July 31, 2010.
Raffle Dog
Sumo Slam Package Giveaway! (ends 7/29)
Prize: 2 T-Shirts, 1 Stress Relieving Ball, Thumb Sumo Set, Autographed Sumo Photo (ARV $75)
Other Places to List Your Giveaway

MONDAY:





Frugal Freebies and Deals
Busy Mommy

THURSDAY:
Moomette's Magnificents
The Freebie Blogger

Other Great Giveaway Sites
Mom Bloggers Club
Cafe Mom
Mom Fuse
Sweeps4Bloggers
Contest for Moms
SweepsAdvantage.com
Online-sweepstakes.com
Would you like your giveaway to be featured under our HOT giveaways across the web? Please fill out this form and we will feature your giveaway next Monday. Giveaway deadline must be

after

7/26 in order to be listed next week.
Website Name

Your Email Address

Prize

Deadline to enter

Live Link to Your Contest

Description
http://www.linkytools.com/basic_linky_include.aspx?id=26336
Link to this post:
<a href="https://healthymomsmagazine.net/2010/07/hooray-for-giveaways-726-82.html">Hooray for Giveaways | 7/26 – 8/2</a>