A lot of people kiss my face. Well, I think six is a lot. And because my skin has been my worst enemy since my late teens, I haven't always been comfortable with that. Since becoming a mom, though, keeping my distance is no longer an option. Neither is spending time on my makeup or money on top-of-the-line skincare.
Another thing that has changed since motherhood is my awareness of what I put on my skin and into my body. It's a fact that many ingredients in popular skin care and household products are simply not safe. Many have been proven to raise estrogen levels (Estrogen Dominance Syndrome), and others may even cause cancer.
You know what doesn't cause cancer?
Any of the things in this photo….
Edible ingredients and
essential oils
have become my skin care line over the past couple of years.
When I need a little
de-stressing
, I give myself my famous
Foodie Facial
.
And, for everyday skin care, I rely on a very simple recipe….
….purifying, anti-aging, cleansing, exfoliating and moisturizing. 
Everything in it is beneficial to my skin and endocrine system. And it's not for sale, cause you can make it at home for two to three dollars a jar.
Here's how:
Mix 1 1/2 C finely ground sugar
1 Tbs salt
1 tsp vitamin C powder
1 tsp baking soda
1 C olive oil
10-15 drops tea tree oil
Massage a teaspoon into your face and neck for about a
minute
before removing the scrub with a warm rag. 
And then, quick, let someone kiss your face.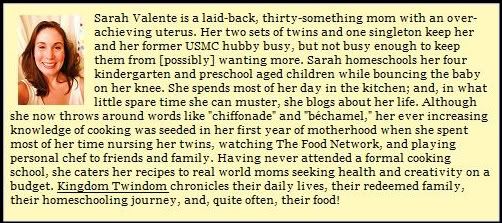 Discuss this in our forum
Link to this post:
<a href="https://healthymomsmagazine.net/2010/08/kissie-face.html">Kissie Face</a>