Last night, on my blog, I confessed that my temper has been volatile and my fuse…short. I also confessed that when I asked God to help me with this problem, He simply told me to stop eating sugar. Bam. Until November. Boom. Halloween is still before November, just in case you were wondering if that had changed.
For me, fall is all about baking…pies, cookies, pastries. The summer is about fresh and raw, and the fall is about comfort and, well, sugar. This summer, however, this summer has been more like fall. Hence the need for radical change.
Today is my third day completely off sugar. And you know, when you're completely off sugar (versus simply staying away from dessert), you have to change the way you eat everything! But today, I really wanted bread…and pumpkin pie. I'm not here to lie.
And I also needed a recipe for Healthy Moms;)
So, I sat down with a pen and a piece of paper, and I began to transform my white bread recipe into something I could eat. I actually prayed through the whole process on this one….which is probably why it came out tasting like heaven! Seriously, if you've never made any of the recipes I have written for this blog, this is the one you're gonna want to try.
Quite simply….
Combine 1 3/4 cup warm water with….
2 packages of yeast
6 tablespoons of melted butter or margarine (Don't ask, you know I used butter. Although, I probably should have used ICBINB!)
1 tablespoon of molasses
4 tablespoons honey
1 egg
3 teaspoons salt
4 teaspoons cinnamon
and one 15 ounce can of pure pumpkin
Stir, stir, stir.
Slowly add 6 cups of whole wheat flour and 4 tablespoons of ground flax seed.
Knead with more flour, if necessary; the dough will be slightly sticky.
Let rise one hour, knead, and place dough in greased pans (I made one regular and one large loaf) for another hour of luxurious rising before baking.
Bake at 350 degrees for 15 minutes and finish with 10-15 minutes at 375.
Cool slightly before slicing. And then, to top this fantastically soft whole wheat bread with the sweetest essence of pumpkin, may I humbly suggest a little low-fat cream cheese?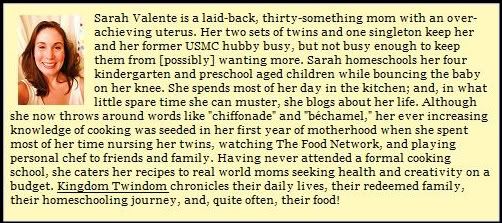 Link to this post:
<a href="https://healthymomsmagazine.net/2010/09/fall-is-for-pumpkins.html">Fall Is for Pumpkins</a>