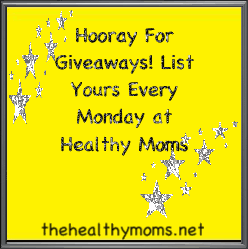 It's time again to celebrate giveaways! List yours here or if you want to enter one they are just a click away.
Giveaways here at Healthy Moms and Deals from the Healthy Moms Online
Hot Deals from Healthy Moms Online
New Customers can get $5.00 off when they purchase anything. Use Discount Code: five
$10 off a $30 or more purchase of Derma e Natural Skin Care Items. Use Discount Code: dermae2
Free Shipping on All Native Remedies Products. Use Discount Code: ship2
Visit the Healthy Moms Online for more information.
Derma e Natural Skin Care Giveaway
We are giving away 3 fantastic Derma e products to one lucky reader.
DMAE – Alpha Lipoic – C-Ester Retexturizing Crème
DMAE – Alpha Lipoic Acid – C-Ester Foaming Facial Cleanser
and
DMAE – Alpha Lipoic Acid – C-Ester Firming Facial Toner
All three retail for $41.23 at Healthy Moms Online
Winner was comment number 70
Summer said…
September 18, 2010 7:01 PM
I have been looking for facial products to help firm my skin. I have a few sagging spots that I would love to firm up.
Congratulations, Summer I will be in touch with you to claim your prize.
Win a copy of The Eat-Clean Diet for Family & Kids by Tosca Reno
All You need to do is leave us a comment. Contest ends September 16, 2010 at Midnight PST.
Winner was: Comment #6 out of 51 was the winner: Asha . . .
Congrats! You have 48 hours to contact Jodi with your snail mail address to send the book to (please send it to thegranolamom4god at gmail dot come). Thanks!
Anytime Fitness Giveaway
To enter: take the COAK pledge at http://COAK.org, then tell us you did it in the comments on this blog.
One person will be chosen at random from the comments to win the following prize package:
A GRUVE activity and calorie tracker, Gruve 1 year subscription,
Upgrade to a one-year premium pass to http://AnytimeHealth.com (valued at $50).
The total giveaway package is valued at $230.
This contest ends on September 30, 2010 at midnight PST and is open to US residents only.

All you need to do to enter is leave us a comment.

HOT Giveaways across the web
Living Out Loud
$50. PayPal Cash (ends 9/30)
One winner will receive $50 PayPal Cash – I will deposit $50. $50. into your PayPal account if you are chosen as winner!
All Sam's Idea
$40 PurelyDogBeds.com Gift Certificate (ends 10/8)
Enter to win a $40 Gift Certificate to PurelyDogBeds.com! Multiple ways to enter to win!
Linda Gerber's Blog
Two $50 Amazon Cards, ARCS of Trance, and a Digital Photo Key Chain (ends on 9/30)
Marie's Cozy Corner
$20 gift cert. to lizanna's baby crochet esty (ends on 9/20)
a 20 dollor gift cert. to lizanna's baby corchet esty store to enter all you have to do is going over to her store and tell me what you think of her items.
In The Know Mom
Hot Milke Maternity Lingerie (ends on 9/23)
Win Hot Milk's most popular nightwear, their Delighted With Her Victory outfit!!! Enter at In The Know Mom! Contest ends 9/23
Clay In His Hands
More Than Alive products (ends on 9/23)
Other Places to List Your Giveaway

MONDAY:





Frugal Freebies and Deals
Busy Mommy

Visit the Fabulous Family Reviews & Giveaways Giveaway linky every Wednesday.
THURSDAY:
Moomette's Magnificents
The Freebie Blogger

Other Great Giveaway Sites
Mom Bloggers Club
Cafe Mom
Mom Fuse
Sweeps4Bloggers
Contest for Moms
SweepsAdvantage.com
Online-sweepstakes.com
Would you like your giveaway to be featured under our HOT giveaways across the web? Please fill out this form and we will feature your giveaway next Monday. Giveaway deadline must be

after

9/27 in order to be listed next week.
Website Name

Your Email Address

Prize

Deadline to enter

Live Link to Your Contest

Description
http://www.linkytools.com/basic_linky_include.aspx?id=45770
Link to this post:
<a href="https://healthymomsmagazine.net/2010/09/hooray-for-giveaways-920-927.html">Hooray for Giveaways | 9/20 – 9/27</a>