https://apis.google.com/js/plusone.js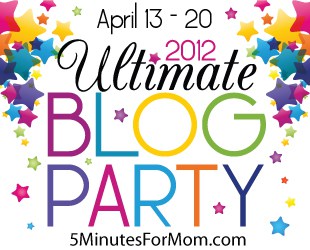 The Ultimate Blog Party 2012 brought to you by our friends, Janice and Susan from 5 Minutes For Mom is almost here and you are invited to party with The Healthy Moms Magazine!
What is The Ultimate Blog Party?
In 2007 Janice from 5 Minutes For Mom thought it would be a cool idea to have a "party" on their blog for mom bloggers to come together, link up and visit each other's sites and blogs. Almost 1000 bloggers joined in and the event grows more and more each year. Last year 3,000 bloggers participated in The Ultimate Blog Party.
If you are looking for a great way to grow your blog, gain new readers or just find new blogs to follow and read you MUST participate in The Ultimate Blog Party.
Did I mention that they give away a ton of cool prizes too? All participants in The Ultimate Blog Party have a chance to win prizes for themselves or their children. For more information about the prizes or to donate a prize visit 5 Minutes For Mom.com.
This year will be The Healthy Moms Magazine's fourth year participating. Visit the links below to read our Ultimate Blog Party posts from previous years.
The Ultimate Blog Party 2009
The Ultimate Blog Party 2010
The Ultimate Blog Party 2011
The party starts on Friday April 13, 2012 and runs through April 20, 2012. For more information please visit 5 Minutes for Mom.com.
I hope you can join us!
Cascia Talbert is a busy blogger, publisher, freelance writer, online merchant and mother of five children, living in The Pacific Northwest. With a B.A. in history and law and a passion for writing and staying healthy, she started The Healthy Moms Magazine in 2007. The Healthy Moms Magazine is currently ranked the top health blog for moms and features several health expert writers and mom bloggers. Ms. Talbert believes that if mothers are well educated on health issues and how to stay healthy, they can pass that information down to their children and reverse the childhood obesity statistics in the U.S.
Ms. Talbert is a featured health blogger at Wellsphere.com and her articles can also be found on ezinearticles.com. She also runs the Healthy Moms Social Network on Ning, manages Mom's Natural Health and Wellness Store, and is on the Social Media Advisory Board for America's Wellness Challenge.
Link to this post:
<a href="https://healthymomsmagazine.net/2012/04/come-and-party-with-us-at-the-ultimate-blog-party-2012.html">Come and Party With Us at The Ultimate Blog Party 2012</a>