https://apis.google.com/js/plusone.js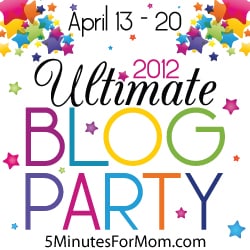 I am so excited about this event and look forward to it every year! Susan and Janice from 5 Minutes for Mom put on this virtual party for mom bloggers to network and connect and share blogging tips and tricks each year. This year is The Healthy Mom's Magazine's fourth year participating.
[youtube http://www.youtube.com/watch?v=Z6YosQSrogI?hl=en&fs=1]
My name is Cascia Talbert and I am the founder of The Healthy Moms Magazine. I want to thank you for taking the time to visit our site during The Ultimate Blog Party 2012.
I grew up in Wisconsin, the youngest of five children, today I live in Spokane, WA with my husband and my five children. Just like my mother, I have three boys and two girls. My kids range in age from 1 year to 15 years and they keep me busy! Sometimes I wonder how I find the time to blog at all.
If you are not familiar with The Healthy Moms Magazine I will try to make this short and sweet so you have time to visit other blogs. I started this blog back in 2007 as an online health and wellness resource for moms. My main concern is the Childhood obesity epidemic we have here in the United States.
I believe that if parents are well educated on how to maintain a healthy lifestyle we can reverse the obesity statistics.
What began as a small, simple health blog five years ago has grown to over 19,000 subscribers and social media followers. We are known as "The Number One Health Blog for Moms." I am humbled and honored at my blog's success.
The Healthy Moms Magazine has 30 contributing bloggers including well known mom bloggers and health and wellness experts.
If you don't have time to take a look around I encourage you to leave us a comment, subscribe to our feed or bookmark us. I am going to try my best to visit as many blogs as I can this week. If you leave me a comment I will make sure I leave one for you in return.
Thank you again for stopping by!
Cascia Talbert is a busy blogger, publisher, freelance writer, online merchant and mother of five children, living in The Pacific Northwest. With a B.A. in history and law and a passion for writing and staying healthy, she started The Healthy Moms Magazine in 2007. The Healthy Moms Magazine is currently ranked the top health blog for moms and features several health expert writers and mom bloggers. Ms. Talbert believes that if mothers are well educated on health issues and how to stay healthy, they can pass that information down to their children and reverse the childhood obesity statistics in the U.S.
Ms. Talbert is a featured health blogger at Wellsphere.com and her articles can also be found on ezinearticles.com. She also runs the Healthy Moms Social Network on Ning, manages Mom's Natural Health and Wellness Store, and is on the Social Media Advisory Board for America's Wellness Challenge.
Link to this post:
<a href="https://healthymomsmagazine.net/2012/04/the-ultimate-blog-party-2012.html">The Ultimate Blog Party 2012</a>