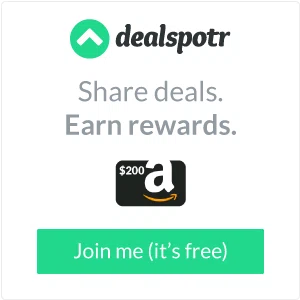 Everyone wants to save money and earn money. We need it to live our lives and pay for groceries, shelter, transportation and other necessities. For bloggers like myself, we try harder every day to earn more money with our blog so we can invest in our brand, do more marketing, or just pay the bills. What if I told you that there is a new and fun way you can make more money with your blog and find more ways to save money on things you purchase every single day? I bet you would say, "Tell me more." Here are some Tips for making money online.
Dealspotr is changing the way people shop with their app which pays the user to save money while connecting with a fantastic community. Sounds pretty cool! So how do you get started?
"Dealspotr is like Wikipedia for deals, meaning our members post all the deals on our site. Any member can also edit any deal, to ensure accuracy based on the latest information. You earn points and rewards for sharing and editing deals.

On sites like Reddit or BuzzFeed, the community votes to determine what's hot. Dealspotr works the same way, but with a twist. You earn points for accurately predicting which deals will go Hot or On Fire on any given day. Look for the Spot button on any deal and press it if you think the community is going to vote for that deal today.

Dealspotr gives you a personal feed, like your Facebook news feed, but customized just for deals. You can subscribe to your favorite brands, topical interests, or community members or influencers who you want to follow. You can check your Dealspotr Feed anytime to get an real-time view of the deals you might be interested in. If you're shopping for something specific, you can turn on notifications for any store or interest to make sure you know about the latest deals.

Do you have a blog? Are you building a social media following? We welcome all lifestyle bloggers and influencers to join our influencer Network. It's a great way to network and meet other influencers, plus you earn lots of great perks, such as double (2x) lifetime points on Dealspotr and an enhanced referral program.

Referring people to join our community is one of the best ways to earn points. Not only do you earn up-front commissions for each referral you make, you earn a percentage of their lifetime points earned on Dealspotr. The result is a great way to earn a mix of active and passive income, all while sharing a valuable resource that your friends are bound to love." dealspotr.com
Join the Dealsptr community and start saving and earning money. If you are a blogger I encourage you to join the Influencer program. The current influencers help their readers and followers save money, earn cash on paid opportunities, and build their blog and following. Click HERE to join today.
This post has been sponsored by

Link to this post:
<a href="https://healthymomsmagazine.net/2016/10/save-money-dealspotr.html">Share Deals and Find New Ways to Save Money with Dealspotr</a>